You can right-click and choose Save Link As to download the link. Or just click on each button to see the PDF in a new window and download to your PC.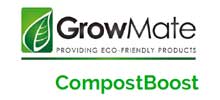 GROWMATE® COMPOST BOOST PRODUCT BULLETIN

GENERAL INFORMATION
GROWMATE® COMPOST BOOST is a blend of plant extracts and other organic substances designed to promote rapid bacteria growth in all types of composting vessels, units and containers. Grow-Mate® Compost Boost is added directly to solid waste matter and accelerates the rate of native bacteria growth.

APPLICATION
The application volume of GROWMATE® COMPOST BOOST is deter-mined by the volume of waste being treated. 1. Spray the blend-ed mixtures of GROWMATE® COMPOST BOOST directly and evenly on to the waste matter being composted. 2. GROWMATE® COMPOST BOOST should be diluted with non chlorinated water at a rate of one (1) part product to one (1) part non chlorinated water. 3. One (1) gallon of GROWMATE® COMPOST BOOST mixed with one (1) gallon of non-chlorinated water should treat 20 cubic yards of waste material. Managing the balance of water to waste solids in the composting container is critical. 4. Intermittently mix the compost during application of GROWMATE® COMPOST BOOST to improve the products distribution to speed decomposition.

PRECAUTIONS AND USAGE WARNINGS
This product should not be ingested and contact with the eyes must be avoided. In case of contact with eyes, rinse with abundant water. The use of eye protective equipment (indus-trial lenses) is suggested. May cause skin irritation.

TRANSPORTATION AND STORAGE RECOMMENDATIONS
Store in a cool dry place at temperatures between 7 degrees C (45 degrees F) and 38 degrees C (100 degrees F). Do not store in direct sunlight, keep tightly closed in its original packaging.
GUARANTEED ANALYSIS
Humic Acids 1.44%
(Humic Acid Derived From Leonardite)
Method of analysis: JAOAC 97(3):721-730 (2014)
HPTA approved standard analysis method.
Humic Acids 1.50%
(Humic Acid Derived From Leonardite)
Method of analysis: CDFA
CONDITION OF SALE/WARRANTY
Manufacturer's and Seller's obligation is limited to the replace-ment of products due to defective quality only. Neither Seller or Manufacturer shall be liable for damages directly or consequent-ly arising from the use of this product. All suggestions or directions made herein are based upon our experience and are believed to be accurate. No other guarantee or warranty is made or implied by contract, statute, common law, merchantability, fitness, for a particular purpose or otherwise, as conditions and methods of the use of products are herein described are variable (e.g. weather etc.), and beyond our control. This information and any products are provided on the conditions that the user will evaluate them for himself, as well as, any recommendations to determine their suitability for his own purposes before adoption.
* GrowMate® products are compatible with most phytosanitary, fertilizer/nutritional products and herbicides, except those with low pH (between 2 and 3) or very high pH (9 and above).
* ONLY OPEN BEFORE USING.